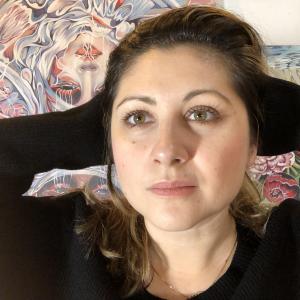 Felicia Cirstea
Artist member since 2019
Toronto, Ontario
Using symbolism, abstraction and representation Felicia's paintings investigate the human condition and the explorations of self as it ensures survival in relationship to en ever-changing cultural environment while combining notions of religion, spirituality, cultural beliefs and expectations, psychology as well as media depiction of women and family values. Felicia Cirstea graduated from OCADU in 2007 and is based in Toronto.
---
Best season of the year in Toronto
Fall
Beverage of choice
Coffee
During my breaks, I tend to ...
Still work
Describe the person your work appeals to in 3 words
Curious, expressive, open-minded.
Why is it important for people to have art in their home or life?
Because art connects us all
When did you start making art, and why?
Childhood. It felt like the right thing to do.
Upcoming Exhibitions
July 12-14, 2019
Toronto, Ontario
Toronto Outdoor Art Fair
Select Past Exhibitions
2019
Toronto, Ontario
The Artist Project